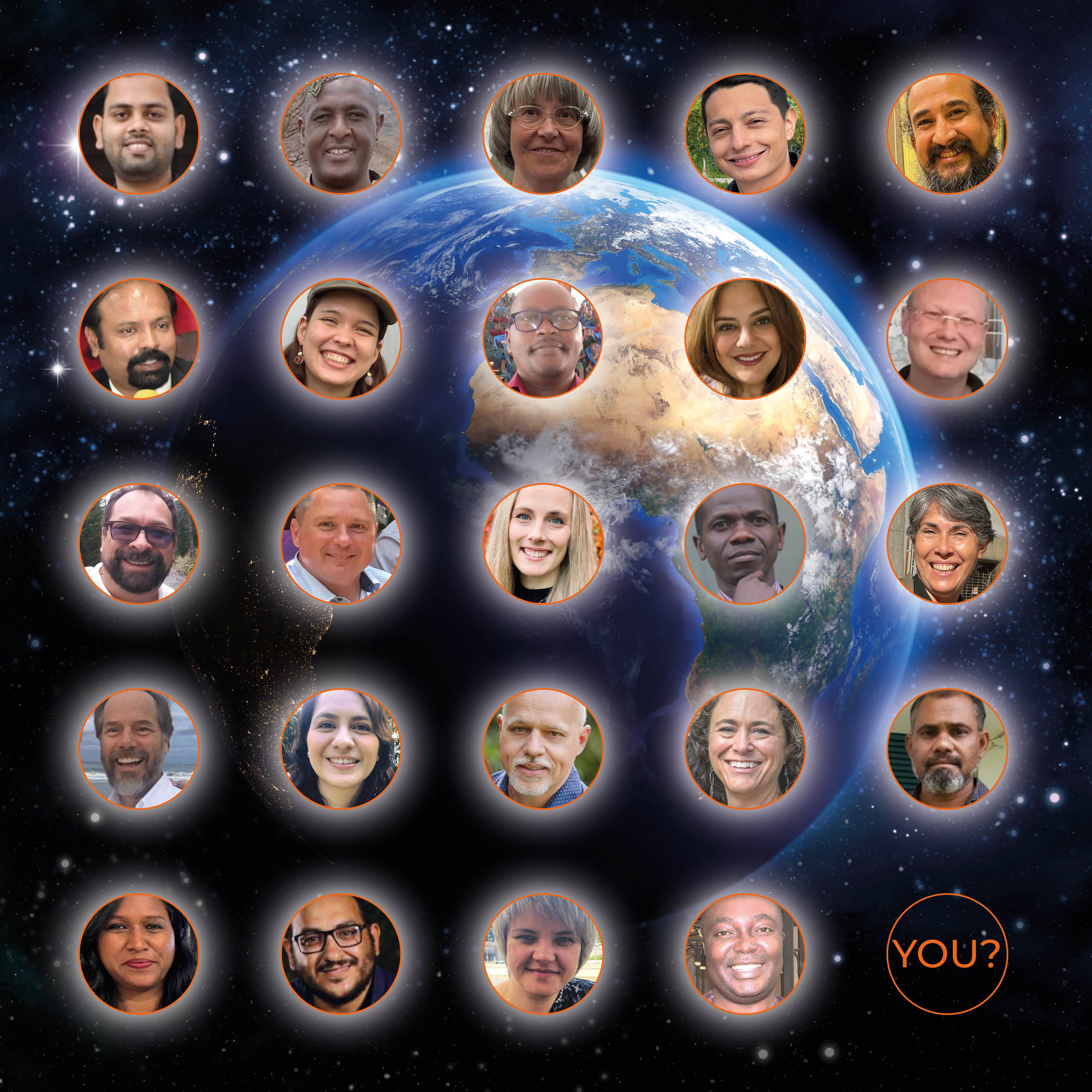 Does your country have a JC2033 ambassador? If not, why don't you become the first one? Become part of the…
…over 140 JC2033 ambassadors in 42 countries* who have made this vision of celebrating the 2000 years Jubilee of the Resurrection of Jesus Christ their own. Ambassadors who use their calling, gifts and connections with Christian leaders and churches within their sphere of influence to spread the vision. They develop different projects of unity, share this life-giving hope, and celebrate the Risen One.
Here is what motivates them:
"I believe that celebrating together the resurrection of Christ is going to make a big impact. We can be united in Christ. As an ambassador of JC2033, I believe that we can build bridges between churches. One heart, One Body in Christ." Rev. Roger Maatje, France
"In the face of the powers of death, which express themselves and act widely, it is essential that the life-giving power of the Risen Jesus Christ be incarnated, demonstrated, and proclaimed. Uniting Christians all over the world to celebrate together the triumphant work of the Son of God is an essential contribution to the proclamation of the Gospel. As a communications teacher and pastor, I'm very sensitive to the need to be credible in conveying a message to invite everyone created by God and loved by Him to choose to believe in His forgiveness, His call, and His plan for eternal life." Pierre-André Léchot, Switzerland
"I am inspired by the vision, mission and strategy of JC2033, so I am committed to this global movement. Let us keep going by building unity amongst us through prayer, leaning on the Holy Spirit and exalting our Lord Jesus Christ! Because I love all adventures in His mission." BP Khanal, Nepal
I am motivated to be obedient to the command of Jesus Christ to help fulfill the Great Commission in Cartagena, Colombia, and the world. JC2033 is a vision that not only unites some areas of Christianity but is an historical bridge, unique for evangelization. I am unapologetically motivated to defend the most important event in history and to tell young people that the Christian faith is not a blind leap, but that there is evidence that Jesus was Resurrected and that his tomb is empty. So, I join in this vision so that on Easter Sunday 2033, we will celebrate the 2000th anniversary of the Resurrection of Jesus Christ in my city and Department. Thank you for giving life to the Church with this vision. Pastor Riad Oke, Colombia
I am part of the JC2033 community because of my belief in the triune God. I believe in the Resurrection of Jesus Christ, the Son of God. The Resurrection of Christ, to me, means to conquer negative powers, the powers that hold humanity down, hence the restoration of hope and assurance of God's promise of eternity. I am motivated to be an ambassador because I feel the glory of God is reflected in me. Therefore, I need to be able to testify to His goodness, glory, and splendor. I am motivated to inspire hope in humanity by spreading the news of His Resurrection. Celine Osukwu, Nigeria.
Because it is Jesus' prayer to see unity within his family.
Because the Resurrection is the message that brings hope to the world.
Because this crazy initiative to prepare for the 2000 years of the Resurrection helps us discover the beauty of the body of Christ.
Because I love the adventure that gives glory to God.
Because unity and reconciliation are the answer to racism and the spirit of independence!
Laurent Gerber, Canada
The very Resurrection of Jesus Christ is my reason for gratitude and work. It is my desire that when we celebrate the 2000 years of His Resurrection, every person will be present. I am an ambassador because I am already transmitting to my generation the message of 1 Cor. 15:3-4, which we are called to. I am preparing people to do so too, and if Jesus does not come first, on Easter 2033 we will meet in this Great Celebration. I am passionate. It will be a glorious time. You saw how Argentina celebrated when they won the World Cup in soccer. I wish, pray and work so that the celebrations of the 2000 years of the resurrection will surpass this multitudinous celebration. That is why I am an ambassador and belong to this precious group of people who think and feel the same way. Alicia de Zatko, Argentina
I am encouraged by the calling of the JC2033 movement to share the great news of Jesus' Resurrection. And I share the same interest and motivation of the movement to reach out to as many as I can. Not only to Arabs, as I feel passionate to do, but also to the whole globe. Through evangelism, disciplining and proclaiming Christ Lord, Savior, and Redeemer for all. Michael Arteen, Middle East
Unity, Witness, and Celebration of the Resurrection of Jesus Christ being the core values of JC2033, I am inspired to be part of this great family. If it weren't for His Resurrection, I wouldn't be preaching the gospel I preach today. Indeed, He is Risen, Matthew 28:6. Anthony Mukisa, Uganda
*Countries with JC2033 Ambassadors:
Argentina, Bangladesh, Belgium, Brazil, Burkina Faso, Burundi, Cameroon, Canada, Chile, Colombia, Cuba, Dominican Republic, France, Germany, India, Israel, Jordan, Kenya, Lebanon, Madagascar, Mexico, Middle Eastern countries, Nepal, Nigeria, Norway, Pakistan, Peru, Philippines, Russia, Rwanda, Singapore, Switzerland, Tanzania, Uganda, Ukraine, United Kingdom, USA, Zambia, and others.
Our vision:
ONE ambassador per country
ONE ambassador per million inhabitants
12 regions with the number of ambassadors desired (orange circles) and the number of ambassadors in place (blue circles).
Become one of them!
Button: Learn more