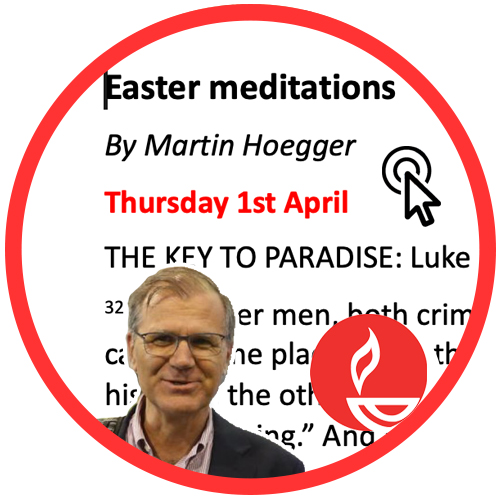 As we journey through Easter together we invite you to live the Jesus Celebration with the help of our meditations, testimonies and events all focused on the resurrection and our unique values of Unity, Witness and Celebration.
Click on the circle or coloured text to discover each item. And then click the same image to return.
1. Prime Time Live - We are so excited to announce, Resurrection Prime Time, an Easter Sunday live broadcast on Facebook. Join us at 2:33 CET as we hear from the JC2033 Team, plus special guests in Egypt and Brazil. Let's Celebrate this Easter together with the Risen One amongst us! Would you help us promote this event by sharing it on your facebook page?

2. Living Easter as an Orthodox Christian - One of our friends, Stefan Constantinescu, Orthodox Romanian theologian living in Switzerland, shares his experience of Easter.
3. Easter Meditations - Pastor Martin Hoegger, leads us thru Easter on this six-day meditation starting on Thursday 1st April. Produced in conjunction with Scripture Union.
4.Walk'nPray - We invite you to participate in this ecumencial prayer project for 50 days following Easter.
5. Risen - Wear the sign of the resurrection, a precious jewel handcrafted in Jerusalem by Arab Christians.
6. Be a Witness to the Resurrection - This Easter would you be a witness to the resurrection? So the world may know!