Walk'nPray is a 50-day prayer initiative designed to encourage Christians and the Church to take to the streets to bless their neighborhood, city, region and country.
Walk'nPray began in 2018, when a vision was born to cover the streets of Geneva with prayer for a period of 40 days, from Easter to Ascension 2019. Our team realised that the wider church in Geneva needed to catch the vision with us, and we invited all Christians in Geneva, whatever their background, to join the initiative. The vision took off as many were encouraged to participate by their church leaders and as reports by prayer walkers started to stream in.
From the start the question was "how will we know if all the streets have been covered". The solution we found was to transcribe by hand onto our Walk'nPray map the walks that were recorded by using a sports activity tracker application. This created a beautiful representation of the prayers and assisted practically to ensure every street was covered.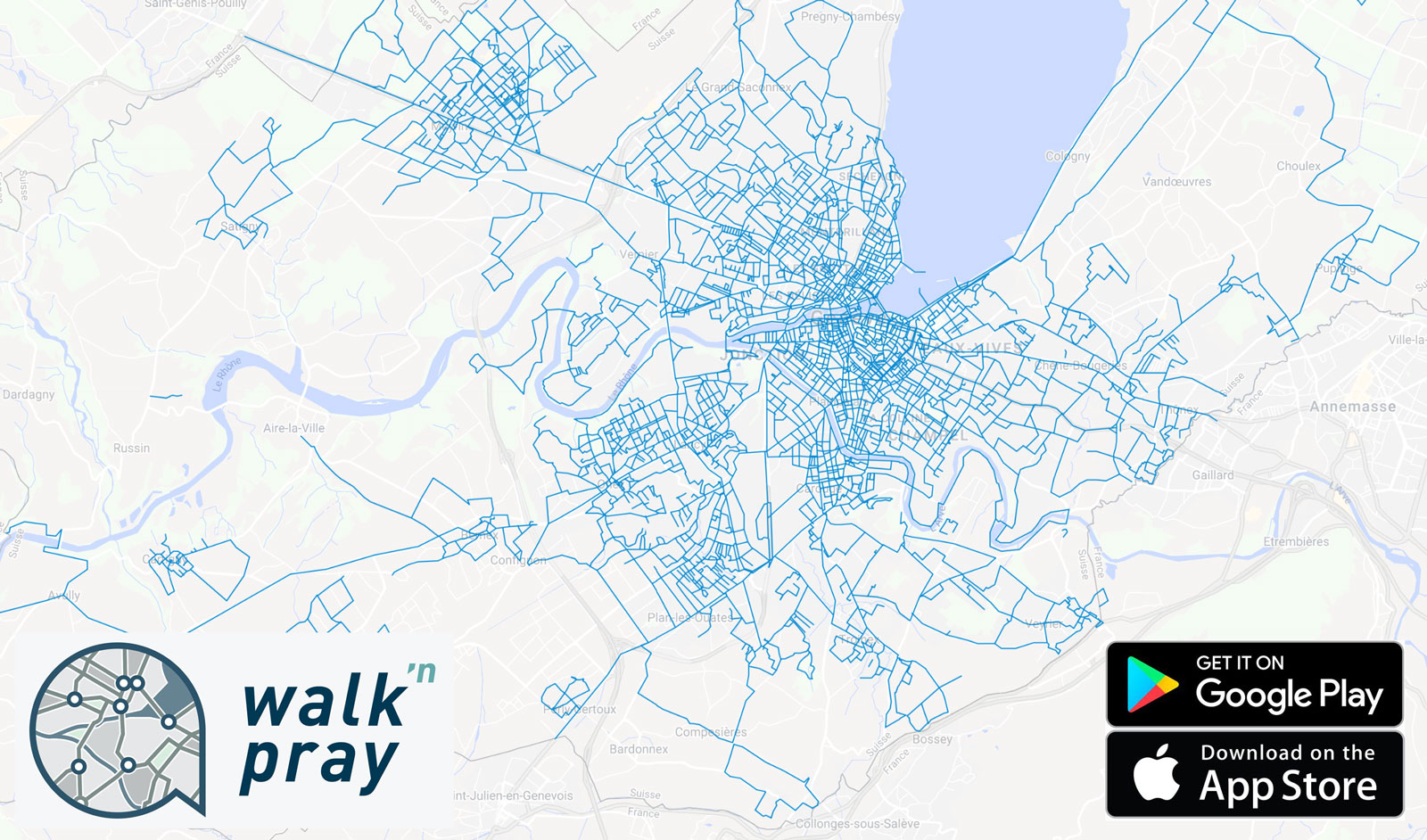 Geneva 2018 Day 39!
The response was incredible as Christians of all backgrounds took to the streets of Geneva to Walk'nPray, to bless their neighbors, schools, shops, and businesses. Participants shared their experiences and were encouraged through a Facebook chat group, there were also informal gatherings held for participants to attend. An Easter sunrise service at the lake was a wonderful moment to start the journey together.
During the new Covid pandemic of 2020, the project was placed on hold in keeping with the regional lockdowns that were in place. This Easter as restrictions are slowly starting to ease, we are convinced now more than ever of the need for Walk'nPray. To pray with our eyes and hearts open as we walk the streets of our cities and neighborhoods, expecting God to reveal His heart and compassion, blessing us with vision and hope for the days to come.
We have developed a Walk'nPray smartphone application available for download on both the Apple store and Google play. The app creates a prayer map that updates automatically and in real-time as participants walk and pray.With this new technology, we can now invite you to participate wherever you are in the world!
So how can I get involved this Easter?
It's simple. Download the app, start your prayer walk and bless your region. Why not invite other Christians in your area to join with you?
To find out more please visit the website www.walknpray.com. We look forward to hearing your testimonies as we walk'n pray together with united hearts