In 2019, the JC2033 vision book by Olivier Fleury (" So The World May Know") fell into my hands. I was completely captured by the vision of the grand celebration of the 2000th anniversary of the Resurrection of Christ and wanted to share this vision.
Later that year in November, I attended the Jesus Celebration Global Gathering, "Light Up The World" in Brussels Belgium, and returned to Russia as an official Ambassador of JC2033!
You may know that Russia is considered to be an Orthodox country and Celebrates Easter according to the Julian calendar. You may not know that many Protestant (Evangelical) denominations and communities actually mark Easter together with Orthodox Christians. This year we did this together on May 2nd.
Between our two Easter celebrations, I was invited to present the vision of JC2033 at the 18th General Conference of the Russian Evangelical Alliance. Welcomed by Alliance President, Alexander Vasilievich Fedichkin, I started with the ancient yet ever new Easter greeting, "Christ is risen! He is Risen indeed!" This set the tone of unity for our time together.
In sharing the vision I started in the future dreaming with the participants about this great gathering in churches, stadiums, squares, and homes all for the sake of one person - Jesus Christ. Our goal is clear: we want to give all the glory to Christ!
I also talked about the three values of JC2033, Unity, Celebration, and Witness. We want to invest in those values right now in Russia for the sake of those who have not yet come to know Him. We believe this will lead to a great awakening and Tsunami of love in the world.
It was a wonderful time shared and a privilege to present the project of JC2033. My presentation was well received and by God's grace, Russia will be ready to celebrate this greatest of events. An event that changed the course of world history and millions of lives for eternity.
To finish my report I ask you the same question. What will be your unique gift to the risen Christ?
Thank you,
Vera Izotova
Maybe you too are interested in the great celebration of 2033 or would like to see the values of JC2033 grow in your region and the world. Our JC2033 Ambassador program meets virtually every quarter online, and face to face at the annual Global Gathering. This year, 2021 we are in Anafora, Egypt. To find out more please contact our program manager, Joanne Suardi. This email address is being protected from spambots. You need JavaScript enabled to view it..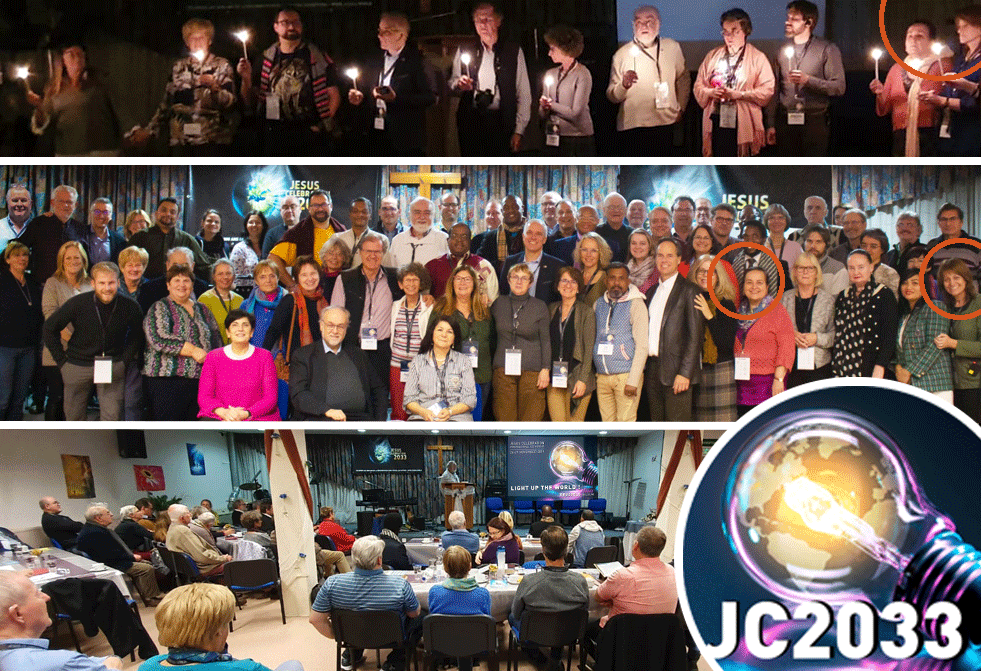 Vera Izozova, Zoya Bardina - "Light Up The World" Brussels, Belgium
Previous - Easter 21 Live the Jesus Celebration!
Main Image - Vera Izozova, Zoya Bardina.